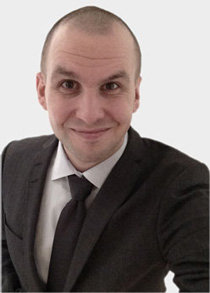 Mattias Karlén – medicinsk illustratör
Jag är frilansillustratör med fokus på medicinska och vetenskapliga bilder. Jag har lång erfarenhet av medicinsk forskning och allmän biologisk vetenskap från mina år som doktorand inom neurobiologi/utvecklingsbiologi vid Karolinska Institutet, min magisterexamen från Biologlinjen vid Stockholms Universitet och Biomedicinska Forskaskolan i stockholm. Min forskarbakgrund brukar underlätta kommunikationen kring hur bilderna ska utformas och förståelsen för det budskap som ska lyftas fram.
Jag kan hjälpa er med 2D/3D-illustrationer för t.ex. utbildningsmaterial, publikationer, omslag, review-artiklar, power point-presentationer, avhandlingar, konferensaffischer m.m. Vid behov kan jag även hjälpa till med hemsidor, banners, foto och eller animationer.
Firman bildades 2007 och jag har frilansat på heltid sedan 2009.
I am a freelance illustrator with focus on medical and scientific images. My background as a Ph.D. student in developmental neurobiology often helps in the communication about how the illustrations should be used and what the main message is that needs to be conveyed.
I can help you with 2D/3D illustrations for: educational material, publications, covers, review articles, power point presentations, disertations, conference posters etc. If needed I can also help you with webpages, banners, photography or animations.
Kundexempel / Client examples
Over 60 Research groups at Karolinska Institutet
Nobelförsamlingen vid Karolinska Institutet
Naturhistoriska Riksmuséet
Natur och Kultur
Vascuring AB
Karolinska University Press
Karolinska Development
SBU – Kunskapscentrum för Hälso och Sjukvården
Playhouse Teater
ACO
Lantmännen
CAT reklambyrå AB
Biolamina AB
Neuronova AB
Minerva Group
Navigator
ETC

Massachusetts General Hospital – the cardiovascular research center
LIME – the Department of Learning, Informatics, Management and Ethics
THRM – The human regenerative map
FH Miljö och byggkonsult
SciLifeLab
Squeezed up Juicebar AB
DAB Dental AB
SSHL – Sigtunaskolan Humanistiska Läroverket
Akademikliniken
Pareto Securities AB
KomMed AB
JIM – Journal of Internal Medicine
Frekvens Produktion AB
H2 Health Hub Stockholm
Navigator
Pareto Securities